We answer some frequently asked questions
How do I join?
All who proclaim Jesus Christ as Lord, and desire to be an active part of our community, are welcome to join.
And, what about my kids?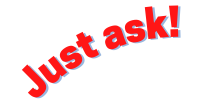 Our goal is to involve children in every aspect of our church life. Children and youth are warmly welcomed in worship, and we embrace their unique contributions at every age and stage of their growth and spiritual development. We collectively root for our children, and strive to provide the kind of environment where they KNOW they are loved and supported.
Can the church help me give back to the community?
At DPC, community service is at the heart of our way of being a church. It is important for us to recognize and respond to the needs of all the members of our community, and most of our outreach work comes to us from members of the Congregation. please see the "missions" brochure in the lobby for more details of organizations we support, and ways we can help you get involved.
Do I need to be a Bible expert to participate in adult education?
Goodness, no. We believe there is always so much more to learn and explore no matter where you are on your spiritual journey. Adult education participation simply supports that exploration, and participants join in with a wide variety of backgrounds in Biblical knowledge.
Ummm, where are the bathrooms?
Our brand new handicap-accessible bathrooms are on the first floor opposite the elevator. On the lower level, we have two gender-neutral, companion-friendly, single stall restrooms available.
How do I join a choir?
This one is SO easy – just show up for a practice. No experience necessary! Watch the bulletin and weekly update for rehearsal times.
What is DPW?
DPW is Darnestown Presbyterian Women. DPW is part of a larger network of Presbyterian Women organizations across the globe who organize to support each other and the mission work of the church. All DPC women are automatically members of DPW! Watch the bulletin and weekly update for ways to join in these activities.
How do I join a church committee?
Much of the work of the church is done through our active committees and we always need participation! You do not even need to be a church member to serve on a committee. There are numerous options - Mission, Membership and Outreach, Christian Education, Cemetery, Stewardship, Mission, Building and Grounds, to name just a few!
How do I serve as a Deacon or Elder?
Elders provide for the spiritual leadership and overall management of the church and Deacons provide for ministry to those in need and assist with ministry activity. They are selected by a Nominating Committee, and voted on by the Congregation. We seek folks with strong faith and the heart and time to serve in these roles.
Do I have to do it all?
Of course not. However, from experience and studies we know that your spiritual journey will be greatly enhanced by joining in active ministry within the church. Even for folks who are not normally "joiners," we believe we can help you achieve a meaningful and purposeful connection somewhere in our work.
Okay, I get it, but who do I talk to for even more details?
The following people can help support you finding your way around our ministries and help connect you to more information:
Neill Morgan, Pastor - (903) 814-9343;
Terrie May, Programs Coordinator - (301) 704-5552;
Eric Waggoner, Choir Director - (412) 760-6826;
Larry Ciolorito, Membership Committee - (301) 801-8406;
Kathy Kurkjian, Membership Committee - (240) 461-3269;
Belinda O'Berry, DPW - (301) 785-7081;